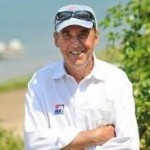 Charles M. Leighton was an almost impossibly accomplished human being.  The highlight reel is that he was Founder and CEO of  the NYSE-listed CML Group (Boston Whaler, Nordic Track, The Nature Company, Smith & Hawken among others), Commodore of the New York Yacht Club, Chairman of an America's Cup Syndicate, Faculty Member at the Harvard Business School, and Director of MetLife and the Lahey Clinic among many other professional and personal accomplishments.  To the fortunate staff and volunteers of US Sailing between 2005-2010, he was simply Charlie. A few memories…
The US Sailing staff was planning our summer outing at Sail Newport.  Genetically competitive, Charlie suggested we do some friendly racing in the J22s, but a couple of staffers felt this would be intimidating to the non-racers.  Charlie didn't sweat the details when a well-intended decision was made to focus on instructional sailing for the newbies.  As we cast off the dock, most of us knew what was coming.  Five minutes into the instructional activity, Charlie called out that the start was between "These two moorings, up to the Hinckley twice around."  Miraculously, Charlie had the college sailing interns on his boat and one of them had a whistle and a count-down timer. He shut the door on us as we tried to sneak a too-late inside overlap at the Hinckley.  Many a sailor would have been yelling something somewhere during the incident.   With his sly smile, Charlie simply said in our direction,  "Well wouldn't that have been spectacular if you could have pulled it off!" as he slid by our boat doing a penalty turn. A few years earlier at another staff event, he challenged everyone to see how many body weight bench press repetitions we could do on his Nordic Track machine – a company he had once owned.  We battled in ping pong, hallway bowling, at the driving range, political and sporting prognostications — all with the best kind of competitive spirit and sense of fun.
He was always teaching.  He wanted to give us the benefit of his knowledge and breadth of experience.  He urged us to be secure enough to listen to people without being defensive, admit when you were wrong, see it from the other person's perspective, "sell don't tell," and if you needed to disagree, remember to put a smile on your face. We were encouraged to talk "with" people, not "at" them.  He had a "no grumps" rule and we were to use "we" not "I." He made us all feel that not only were we good at our jobs, but that we were champions and could accomplish big things, and sometimes we did. When we did, he pointed to everywhere except to himself.
Charlie was a great sailor into his seventies steering Whitecap well and emphatically calling "BREAK!" which signaled the precise point that he wanted the jib trimmer (likely a former Cup sailor) to tack the oversized genoa sustaining maximum drive into the tack.  During one cruise with Charlie, he would drink a Red Bull exactly 20 minutes before the race as some expert had told him to do for maximum concentration. He loved being a student as much he loved teaching because he loved learning new things.  "Young At Heart" does not do him justice, he was young in brain and young in every cell of his body.
Flying with Charlie in his beloved single-engine Cessna Skylane was always an adventure.  After touching down on a run over the Gulf of Maine, he would ask someone else to drive the rental car saying that he was not a great driver and that he was terribly color blind. One day coming from New York, we encountered heavy rain and thick cloud cover and kept dropping down to try and get under the ceiling. It was the kind of situation where you were wondering where the Newport Bridge might be in relation to the tin can you were hurdling around in at 100 knots.  The weather never broke and just as we landed the once heavy rain turned biblical.   Charlie broke the macho pilot typecast as we wheeled to a stop, took off his headphones and exclaimed with full metaphysical irony intended, "Well, aren't we glad to be here!"
A powerhouse of the highest order, Charlie satisfied his ego in such a gracious and generous manner.  He felt like he had won if he had had influence in a situation that mattered to him if he had left light tracks and others were given the credit.  While he sparkled in the spotlight, he more often than not deferred it.  His great humor was typically self-deprecating.  We will miss this giant of a man, this joy of a soul, this dear friend.  Fair winds, Charlie, and thank you!  November 6269 Tango, you are cleared for take off.
Our good friend Charlie died unexpectedly this past Sunday.  He was 77 years young. Memorial gifts may be made to Sail to Prevail, P.O. Box 1264, Newport, RI 02840 or www.sailtoprevail.org.