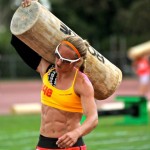 Mia Hamm, two-time soccer World Cup winner, Gold Medalist and winner of four NCAA Championships, had this to say about confidence, "Confidence takes constant nurturing. Like a bed, it must be remade every day."  How could one of the most accomplished athletes of our time not feel deep stores of confidence that she could draw upon at will?
I've been grateful to be around some of our country's top sailing talent and know that the best of the best approach their game in an every day workmanlike manner.  They understand that they live and compete in an ultra-competitive environment.  If they don't take deliberate steps forward each day to improve their game, they will have fallen behind other competitors.  Mia Hamm and other elite athletes embrace that cold reality and it drives them.
Anna Tunnicliffe has been competing in that world long before her Laser Radial Gold Medal in the 2008 Olympic Games.  After a 5th place Women's Match Racing finish in the 2012 London Games, she is campaigning with Molly Vandemoer in the 49er for the 2016 Rio Games. She has long-term goals but goes to work every day with a calm intention and focus.  She pays attention to constructive criticism but remains overwhelmingly positive.  Bad days and mistakes simply inform eventually-improved technique and solidify preparation. If we mortals were to pay close attention,  this level of achievement looks less like a rocket's glorious ascent and more like a tank that slowly, but inevitably, will grind you down.
Anna, always committed to an elite level of fitness, took up CrossFit less than two years ago and placed 9th in the CrossFit Games last week.  I caught up to her (well, you understand that she had to let me catch up to her) for this short interview: Post CrossFit Games Interview with Anna Tunnicliffe.
Also check out great video interview from CrossFit games.